Join us for InterACTION's first plenary session on Innovation & Technology.
Let's discuss technology – the impacts on the physiotherapy profession and the challenges of implementation in health care. Walk away curious, engaged and excited with a different perspective on the use of technology. Further understand the potential positive and negative impacts technology can have in physiotherapy and the broader scope of healthcare.
Maggie Bergeron, physiotherapist, co-founder and CEO of Embodia, will moderate the panel discussion.
 Maggie Bergeron, Moderator
Maggie is a physiotherapist by trade and brings eight years of experience in private practice, global health and startup-level product management to her role as co- founder and CEO of Embodia. Early in her career, Maggie recognized the need for an effective way to engage patients in their home exercise programs and a more efficient method for professional development. Maggie is well connected in the health technology community in Toronto and organizes the leading health tech event, HealthTO, which connects the healthcare and startup communities across the top business incubators including the Ryerson DMZ, Telus Health, MaRS and Loblaw Digital.
Brett Belchetz, CEO & Co-founder at Maple
Dr. Brett Belchetz is a practicing ER physician in Toronto. He is also the CEO and Co-founder at Maple, a national telemedicine provider connecting Canadian patients and doctors for online medical visits. He is a Senior Fellow at the Fraser Institute and works as an on-air medical expert for CTV and Global News. Brett previously worked as a management consultant with McKinsey & Company. He is passionate about healthcare policy, and writes editorial content for the National Post as well as several other Canadian newspapers.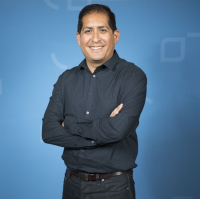 Mauricio Meza – Co-Founder & CEO at Komodo OpenLab Inc.
Mauricio Meza is the CEO and Co-Founder of Komodo OpenLab Inc. who are the developers of Tecla, a company that empowers people with limited mobility  by allowing them to control smartphones, tablets and smart homes. Mauricio has a background in biomedical engineering, worked as an assistive technology consultant for nine years at the Toronto Rehabilitation Institute, and currently holds a Ted Rogers MBA.
Sarah Richard, Chief Product Officer at Carrot Rewards
Sarah Richard is the Chief Marketing & Product Officer at Carrot, an app that allows users to complete health questionnaires and track steps in exchange for reward points. As one of the co-architects of Carrot Rewards, she has designed and developed the award-winning app from conception to release and beyond. Sarah currently leads product strategy, user acquisition and communications. She holds a BSc from McGill an MBA from Ivey Business School.