Welcome to the Eastern Ontario District of the Ontario Physiotherapy Association – Bringing the OPA to your neck of the woods.
Your District Team
Liam Dessureault, President president@eophysio.ca
Ben Tobali , Communications info@eophysio.ca
Carole-Anne Savard, Treasurer treasurer@eophysio.ca
Ghaith Dhaidan, Secretary secretary@eophysio.ca
Erin Morgan-Donnelly, Education education@eophysio.ca
Olivia Garay, Events Coordinator events@eophysio.ca
---
Hussein Baharoon Awarded the 2018 Ottawa Physio Race PhD Scholarship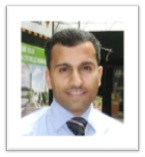 The Eastern Ontario District is pleased to announce that Hussein Baharoon is the honoured recipient of the 2018 OPR PhD Scholarship.
Hussein is currently a PhD Candidate in Rehabilitation Sciences at the University of Ottawa. His thesis project focuses on the role of religion/spirituality and acculturation in managing stress and lifestyle change behaviours after cardiac events among Arab individuals.
"I am sincerely honoured to be the recipient of the Physio Race Scholarship for this year" says Hussein of the award. "I want to thank the Eastern Ontario District of the Ontario Physiotherapy Association, represented by their President, Liam Dessureault, for funding this scholarship. This valued award will make a great change in my academic journey this year."
Congratulations, Hussein!
About the OPR PhD Scholarship:
The award was created as a result of collaboration between the Ottawa Physio Race executive committee and the University of Ottawa. Its intent is to support a physiotherapist early in their PhD program and enable research conducted at the School of Rehabilitation Sciences of continuing relevance to physiotherapy. While the Ottawa Physio Race ceased operating in 2015, the Eastern Ontario District of the OPA has continued to offer this award since.  
---
Notice of Eastern Ontario District of the OPA Annual General Meeting
The holiday season has come and gone, and your EOD executive is thinking ahead to February when you'll be ready to eat and drink again…and come on out to our AGM!
Wednesday, February 6, 6:30-9:30pm
Barley Mow Merivale (1541 Merivale Road)
RSVP: events@eophysio.ca
Featured Speaker: Hussein Baharoon is the recipient of this year's PhD scholarship, and will be speaking about his research as well as his experience in international healthcare settings. Here's a teaser from Hussein: In Yemen, where I'm from, the physiotherapy profession faces significant challenges and barriers in reaching its potential. Two dreams of mine that I've achieved to date are becoming a physiotherapist and studying in Canada. Another goal I'm working to fulfil through my research is to assist Arab people in benefitting from physiotherapy by better managing stress and lifestyle change behaviours following cardiac events.
There are several upcoming vacancies for positions on the executive committee this year:
President-elect
Secretary
Treasurer
Education Chair
Events Chair
We will also be seeking 2 trustees.
Please take a moment to consider joining our dynamic group and participating more actively in your local OPA community! Expressions of interest ahead of time are always appreciated at info@eophysio.ca
Complimentary food & drink tickets for all, as well as fabulous door prizes to be won!
---
Call for Voting Delegates
We are currently looking for voting delegates to represent the district at the OPA AGM on April 7, 2019 in Toronto. The AGM is held in conjunction with the annual InterACTION conference, which runs April 5-6. Those attending as delegates will be eligible to receive a 15% discount on registration for the conference. This is a great opportunity to formally represent our district. If interested, or if you have any questions, please email secretary@eophysio.ca by Jan. 25.
---
Looking for a Location to Host a 'Neuro 101' Course
The Neuro 101 course by Jaquie Levy and Wendy Sarsons has been a very popular professional development activity and has received phenomenal reviews from physiotherapists who have had the opportunity to attend. If you've been hoping to take this course, now is an excellent opportunity! If you're willing to host the course at your clinic or facility, the course can come to you!
Want more information?
Please read this article written by a recent course participant regarding her experience!
To express interest, or if you have questions, please email education@eophysio.ca
---
Contact Us
Email the Eastern Ontario District