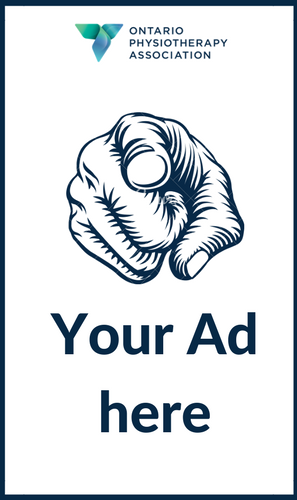 WANT TO ADVERTISE
A CLASSIFIED?
Check out our Ad Rates 2019 or submit your ad in our Store.
 All classified listings posted on this page are emailed to OPA members on the first Friday of the month.
Questions? Please contact Becky MacDonald.
Clinic for sale multidisciplinary
An existing Multidisciplinary Clinic located in North Burlington is for sale or lease. 1300 sq feet clinic, built specifically for physio practice. The clinic is located in a posh neighbourhood in a medical centre with three family physicians on site. There is huge potential for growth.
Email us for more information: burlingtonclinic2019@gmail.com
Rehab Centre/Physiotherapy Clinic for Rent
A rehab clinic inside a medical centre with walk-in and family doctors in Brampton, located in a large plaza.
This spacious location is currently used for physiotherapy, chiropractor, massage therapy, acupuncture and orthotics, with exclusive use in the plaza.
It has a gym with private treatment rooms, and plenty of free parking.
For information call or text: 647-290-9134
Concussion Lab Rehab Pad
The Concussion Lab Rehab Pad is now available and ready for purchase on our online store! The CL Rehab Pad is an important part of vestibular therapy post-concussion and can be used by clinics, healthcare practitioners, and patients taking part in concussion rehabilitation. The CL Rehab Pad works to help you safely build static and dynamic stability while adding proprioceptive and vestibular challenges through destabilization training. The CL Rehab Pad is an easy and effective exercise tool that can be combined with cervical, exertional, and vestibular exercise protocols and incorporated into all concussion rehabilitation programs.
Measurements: 15.4"length x 12.5"width x 2.4"depth
Material: TPE high-density, closed-cell foam, non-toxic
*Thermoplastic Elastomers are low modulus, flexible materials that can be stretched repeatedly to at least twice their original length at room temperature with an ability to return to their approximate original length when stress is released.
Weight: 12 oz.
Care Instructions:
Gently scrub the pad with a cloth or soft brush and mild detergent diluted in water. Rinse with water and wipe dry with a towel or cloth, then let air dry. Store in a cool, dry place away from moisture, heat, and direct sunlight.
Features:
Improves balance, proprioception, and core stability.
Helps improve vestibular and proprioceptive function post-concussion.
Suitable for use in rehab settings and home exercise prescription.
Versatile as a cushion for knees, seat, and elbow during exercise performance.
Odor-resistant, sweat-proof, slip-resistant, light-weight.
High-density support provides support, while flexible foam can be stressed and stretch and return to its original form.