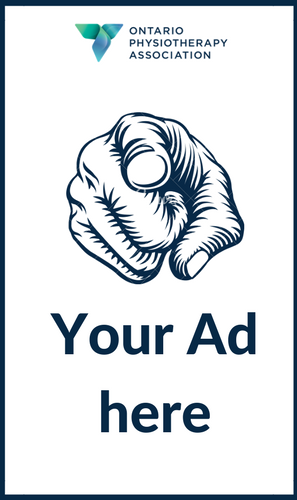 WANT TO ADVERTISE
A CLASSIFIED?
Check out our Ad Rates 2018 or
submit your ad in our Store.
Beginning January 2018: All job listings posted on this page are also emailed to OPA members on the first Friday of the month.
Questions? Please contact Diane Unção at advertising@opa.on.ca.
Space for Physio/Chiro/Massage/Wellness Clinic in Brantford, Ontario
In dead-center, downtown Brantford in an Gorgeous building there is a main floor unit which we feel is a perfect fit for a Chiro/Physio/Massage/Wellness clinic.
A few notes about the unit:
• 134 Dalhousie is 2550 Sq. Ft., single unit, with both front and back entrance and egress (back to parking lot)
• Unit has 17 ft. width and tonnes of depth in a very good layout
• Front area, Conference Room, and 9 (nine) separate offices going down the hallway from front to back
• Functional kitchenette area, and sizeable bathroom (with standup shower)
• Very good shape, does not require a ton of Tenant Fit-out to be made into an excellent quality potential clinic
• The building is, under our management, undergoing significant overhaul, the tenant quality is improving and we are continually making the building more desirable
• This unit sits between brand new Tattoo parlor (run by successful chain "Perfect Image" with 9 locations) and a new boutique clothing store "Alt Boutique" which is having very good sales and launch
Please feel free to forward this to any other party who might be interested in taking on this space. I feel it's 100% right to be re-purposed for some combination of a chiropractic, physio therapy, massage, wellness clinic (perhaps even with some exercise elements and/or psychotherapy, if desired).
Contact Jeff : 647-709-4542 or chrv.dalhousie.brt@gmail.com for inquiries.
Established Woodbridge Clinic Sale
Physiotherapist owned multi-disciplinary clinic for sale in Woodbridge. Services provided include: Physiotherapy, Osteopathy, Massage therapy, Homeopathy, Hypnotherapy, Naturopathy, Orthotics, Live Blood cell analysis and TCM. Majority of the clientele request manual therapy. Clinic is centrally located in a medical building with easy access. Established 20 year referral base with loyal patients. Room to grow. Caseload is mainly private patients with requests for WSIB and MVA cases, but not entertained at the moment.
Contact: atilyg@gmail.com
THOR (Photo-Medicine) LASER For Sale (Class 3B) + Other Equipment For Sale!
THOR (Photo-Medicine) LASER for sale (Class 3B)
Asking $ 14,000.00
The ultimate LASER for any Physiotherapist with research-supported use for:
• pain reduction
• inflammation reduction
• tissue repair
• reduction of lymphedema or any local swelling
• would healing
• neuropathic pain reduction
Calibrated and tested with all diodes available including acupuncture pointer.
Used by one Physiotherapist (meticulous with its use)
*see THOR LASER website for research links!
RichMar Thera-sound 3 series Ultrasound
Asking $600.00
• very excellent condition
• comes with one gallon Aloe-Sound lotion!
Inversion Table
Asking: $200.00
• Clinic quality!
• Very excellent quality and condition!
UNIVERSAL CM3 (3DF)
Asking: $450.00
• Three degrees of freedom motion!
• Clinic quality
• Excellent condition
• (Assistance with assembly and/or delivery extra)
Physiotherapy Treatment Table
Asking: $450.00
• extra soft, made specifically for patient comfort!
• Cabinets below which close easily
• excellent skilled wooden construction, with face aperture
• very stable with changeable height.
• sheets available to use n/c
CONTACT:
Elizabeth Daw
mesryder@rogers.com
905-830-8089
*PICTURES AVAILABLE upon request
Established Markham Clinic Sale
Physiotherapist owned multi-disciplinary clinic for sale in Markham. Clinic located in busy plaza in high income residential area. Established 15 year referral base with repeat patients. Room to grow. Caseload is mainly private patients with some WSIB and MVA. May require non-disclosure agreement. Tel: 416-820-6843
Email: markhamclinicsale@gmail.com