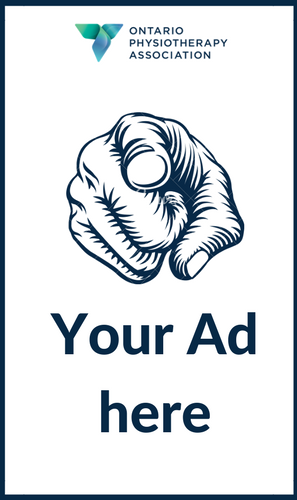 WANT TO ADVERTISE
A CLASSIFIED?
Check out our Ad Rates 2019 or submit your ad in our Store.
 All classified listings posted on this page are emailed to OPA members on the first Friday of the month.
Questions? Please contact Diane Unção at advertising@opa.on.ca.
Concussion Lab Convergence Cord
The Concussion Lab Convergence Cord is designed for convergence training post-concussion. This rehabilitation tool should be used under the guidance of a healthcare professional during concussion rehabilitation to improve convergence and divergence performance.
Features:
10 foot durable white cord
5 contrasting colored beads that slide easily along the cord
Wooden beads stay placed in desired position
Ease of use in a variety of settings
Purchase yours now at the link below!
Amazing practice opportunity downtown Toronto
We are looking for an exceptional registered physiotherapist to join our busy downtown Toronto health centre. The clinic is located inside one of the busiest GoodLife Fitness locations in Toronto at 137 Yonge Street! We get 900-2000 people walking by our reception desk EACH day!
Join an interdisciplinary team of two RMTs and a chiropractor. Must be a member in good standing of the CPO. We are looking for experience and expertise in sports injuries and active individuals. Be your own boss as an independent contractor. Flat fee monthly rent includes all utilities, wifi, and gym access for exercise and rehab. Turn key. Keep all your billings - no revenue share. Enormous revenue potential! Available Jan or Feb 1st. Looking for at least a one year lease. If you are a leader in your field and want to bring your practice to a new level please contact me ASAP at drjory@hybridhealthandfitness.com.
Serious inquires only.
Thanks and have a great day!
Multidisciplinary Clinic for Sale in Busy Medical Walk In Clinic
Physiotherapy clinic located in busy medical walk in clinic and mall available for sale in London, ON. The clinic has 2 private rooms and 3 curtained bays. It also includes a large gym space, which is fully equipped and furnished. The clinic uses the same main entrance as the main mall entrance with great exposure to both the road and interior mall. This clinic is turn key ready. Don't miss this great opportunity.
Please email: Jobpostinglondon1@gmail.com
Richmond Hill Clinic For Sale
For Sale: Richmond Hill physiotherapy clinic located in a professional building on Yonge Street. Operating since 1985, this is currently a single practitioner practice in a spacious location with a steady caseload and room for expansion. 2000 sq. ft. Large gym area and private treatment rooms.
Owner is available to help with transition.
For further information call or text Warren Periera at 416-823-2966.
Space for Physio/Chiro/Massage/Wellness Clinic in Brantford, Ontario
In dead-center, downtown Brantford in an Gorgeous building there is a main floor unit which we feel is a perfect fit for a Chiro/Physio/Massage/Wellness clinic.
A few notes about the unit:
134 Dalhousie is 2550 Sq. Ft., single unit, with both front and back entrance and egress (back to parking lot)
Unit has 17 ft. width and tonnes of depth in a very good layout
Front area, Conference Room, and 9 (nine) separate offices going down the hallway from front to back
Functional kitchenette area, and sizeable bathroom (with standup shower)
Very good shape, does not require a ton of Tenant Fit-out to be made into an excellent quality potential clinic
The building is, under our management, undergoing significant overhaul, the tenant quality is improving and we are continually making the building more desirable
This unit sits between brand new Tattoo parlor (run by successful chain "Perfect Image" with 9 locations) and a new boutique clothing store "Alt Boutique" which is having very good sales and launch
Please feel free to forward this to any other party who might be interested in taking on this space. I feel it's 100% right to be re-purposed for some combination of a chiropractic, physio therapy, massage, wellness clinic (perhaps even with some exercise elements and/or psychotherapy, if desired).
Contact Jeff : 647-709-4542 or chrv.dalhousie.brt@gmail.com for inquiries.
Established Woodbridge Clinic Sale
Physiotherapist owned multi-disciplinary clinic for sale in Woodbridge. Services provided include: Physiotherapy, Osteopathy, Massage therapy, Homeopathy, Hypnotherapy, Naturopathy, Orthotics, Live Blood cell analysis and TCM. Majority of the clientele request manual therapy. Clinic is centrally located in a medical building with easy access. Established 20 year referral base with loyal patients. Room to grow. Caseload is mainly private patients with requests for WSIB and MVA cases, but not entertained at the moment.
Contact: atilyg@gmail.com