KITCHENER-WATERLOO DISTRICT
Welcome to the Kitchener-Waterloo (KW) District of the Ontario Physiotherapy Association where networking events, courses and district news will be posted.
We are currently seeking enthusiastic physiotherapists who are looking for leadership opportunities. If you are interested, please contact Amy VanSchyndel at kw@opa.on.ca.
Celebrate National Physiotherapy Month with the Kitchener-Waterloo District!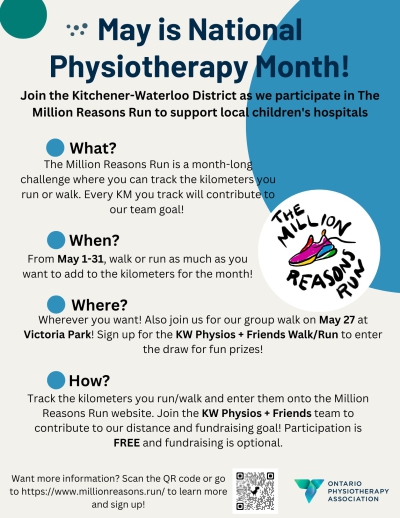 This year, we are participating in The Million Reasons Run to raise funds for children's hospitals across Canada. The Million Reasons Run is a 31-day running challenge, starting on May 1, and funds raised go towards life-saving research to find cures for childhood illnesses and gentler treatments for children undergoing medical procedures.
The KW District has created a running team called KW Physios + Friends, and we would love for you to join! Registration is FREE and on an individual basis so you can create your own running and fundraising goals, and your achievements contribute to our team goals over the course of the month. Prizes for fundraising are awarded on an individual basis, and fundraising is optional.
How to Register:
Find more information and register here
Click "Sign up for Free"
Fill in your information, select a children's hospital of your choice, and set your running goal
Click "Join a Team" and look for KW Physios + Friends
Set your fundraising goal (which can be changed at any time)
Agree to Terms and Conditions and click "Complete my Registration"
Please refer to the "How it Works" section for FAQ's as well as information regarding how to connect your running apps to help you track your running goals! Also, download the poster to share with colleagues, family, friends, and clients! We would love for them to participate as well, so encourage them to register as part of our team!
KW Physios + Friends Walk/Run
Join us May 27, 2023
Victoria Park Pavilion, Kitchener at 9am
To help us celebrate National Physiotherapy Month and achieve our distance and fundraising goals in The Million Reasons Run, bring your colleagues, friends, AND clients to join us at Victoria Park in Kitchener for a 5km walk/run on May 27, 2023.
Win Prizes!
Signing up for the run and enter draw to win OPA swag, and an Amazon gift card will also be up for grabs! The draw takes place May 27 at 9am before the run starts. Winners must be in attendance to accept prizes.
How to Register:
Register for The Million Reasons Run and join our team – KW Physios + Friends
On your personal page, scroll down and click on "Group Runs"
Click "Find a group run" and select Kitchener and Ontario from the drop down menus
Find KW Physios + Friends and click "Join"
When you're logged in, make sure to check back frequently for updates regarding the KW Physios + Friends Walk/Run under "Group Runs", then "Group Runs Joined".
Please click here for free parking at the lot located near the pavilion at 80 Schneider Avenue, Kitchener, ON, N2J 1K9.