Welcome to the Windsor District of the Ontario Physiotherapy Association. If you are interested in participating in the Windsor District, please contact Michael Koonar, District President.
Your District Team
Mike Koonar – President
---
Amy Doiron – Past-President
---
Nancy Drouillard – Secretary
---
Robert Cusinato – Treasurer
---
Ryan Thomas – Education Coordinator
---
Troy Sajatovich – PR Representative
---
UPCOMING EVENTS
May is National Physiotherapy Month!
National Physiotherapy Month – Donate Your Kicks Campaign
Join our 2023 Donate Your Kicks Campaign during the month of May! It's easy to do:
Set up a collection box at your clinic or work place.
Print out this information handout (Page 1) and Poster (Page 2) to advertise to your clients.
Encourage clients and staff to donate their used but in good shape running shoes to go towards the Clothing Closet at Hotel Dieu Grace Healthcare (HDGH).
Send pictures of your collections to Amy @ amydoiron3@gmail.com.
Contact Amy to arrange a time when the donations can be picked up at the end of the month.
Last year we had 95 pairs of running shoes donated in total, which have helped to support patients in need through their rehab process.  We would love to do even better this year! Let's make it a community effort!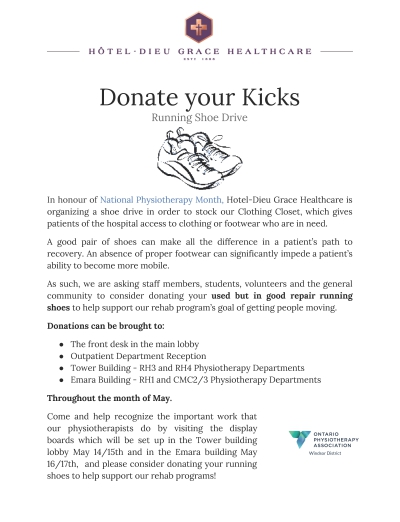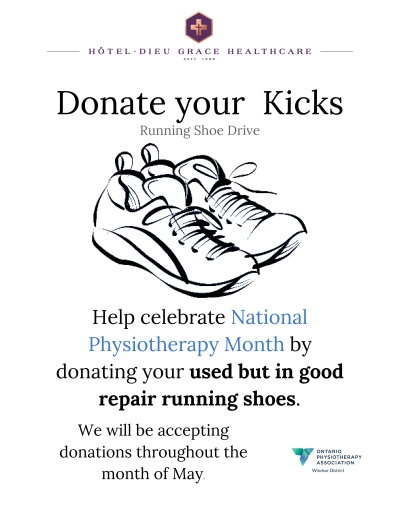 Windsor District AGM & Speaker Series
Thursday, April 20, 2023 at 7:00pm on Zoom
Thanks to all who joined us for our Special Speaker Dr. Liem, Physiatrist, from Windsor Physiatry, Hotel Dieu Grace Healthcare, speaking about Spasticity.
Physio Social & Speaker Series
Wednesday, February 15, 2023 at 6:30pm
Topic: Mending Nerves with Robert Cusinato
A fun and informal approach to education, networking and mentorship!
Koonar Physiotherapy Lakeshore, 480 Advance Boulevard, Windsor
Thanks to all who joined us for a great night!