By Maggie Bergeron, PT
The significant problems we face cannot be solved at the same level of thinking we were at when we created them." – Albert Einstein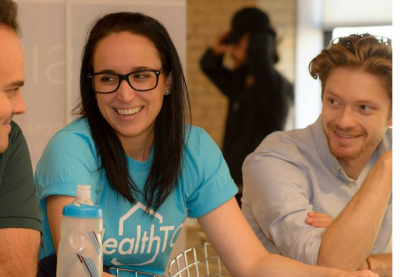 We genuinely care about helping people get better. And to continue doing that well, we need to meet them where they are – on their smartphones. Incorporating technology into our practice is no longer a nice to have, it is a must have. It allows us to provide the best possible care to our patients while making our own jobs easier.
"Hey, I need to be honest with you. I'm not doing my exercises."
And with that, she handed me back the paper handout of exercises I had just made for her.
I looked up at my patient, a mother of two, working full-time as a consultant, dressed in a tailored suit with her smartphone in one hand and a soy latte in the other.
Was I really giving her generic instructions with stick figure drawings? On a paper handout she'll lose before even getting to the office? I suddenly felt a bit silly.
She's right, I thought. This isn't working.
What she needs is her rehab routine that goes with her everywhere. A smartphone app she can access anytime, which allows us to track her progress. Video features that let me record myself or her doing customized exercises, so she can remember them and to keep her rehab routine top of mind.
Here's the problem. Four years ago, there was nothing like that.
We genuinely care about helping people get better. And to continue doing that well, we need to meet them where they are – on their smartphones. Incorporating technology into our practice is no longer a nice to have, it is a must have. It allows us to provide the best possible care to our patients while making our own jobs easier.
When I decided to try to develop a solution with a friend I met dragon boating, I had no idea what was involved in developing something seemingly simple. Eight months later, knee deep in documents of exercises, patient education, technical backend and front end design (which I still don't even pretend to understand) and a serious sleep deficit, we had our first product to introduce to the market.
The Embodia App: A solution for physios by physios
Now for the exciting part – putting it out into the market, getting customer feedback and improving the product!
Crickets. Other than my mom and my own patients, we didn't have any users.
I had discovered what so many other technology start-ups had told me – it's easy to come up with an idea and develop what you believe is the solution but the roots of great innovation are never just in the technology itself. They are always in the broader industry's context. They require new ways of seeing.
"The significant problems we face cannot be solved at the same level of thinking we were at when we created them." – Albert Einstein
The First Five
"When someone is willing to pay for your service or product, you're on your way" said Catherine Graham, my first business mentor, over a cup of coffee at our usual spot for our monthly Thursday meeting.
We had our first five paying customers after a month of iteration and changes to the app to make it easier for practitioners to use.
Catherine taught me three lessons in her first year as my mentor:
Do what doesn't scale – in the early days focus on building the foundation of the business and really understanding your customers. How you do this will be tedious and will take tenacity. Get used to hearing 'no' from customers and be determined to make your product better. Ultimately, what you do in these early days is not what you will do to grow the business.
Under promise, over deliver – do everything you can to delight your customers and turn them into your raving fans. Just like in our physiotherapy practices, word of mouth is the best kind of marketing.
Find your lighthouses – find a few people within your industry who believe in what you are doing and who genuinely want to help you. I found my first lighthouse at the OPA InterACTION conference in April of 2015.
Lighthouses
Lighthouses are those who believe in you, will help you achieve your goals and will support you when times get tough.
I stepped into the conference hall at the OPA InterACTION conference in Ottawa in 2015 knowing no one. I hadn't attended this conference since 2010 and at first glance I couldn't see a single one of my colleagues or classmates.
Everyone was broken off into small groups chatting over a glass of wine. I took a deep breath and joined one of the circles where they were talking about the profession and the presentations they would be giving tomorrow.
A man in the circle smiled at me and introduced himself. He asked where I worked and why I was attending the conference. I told him briefly about healthSwap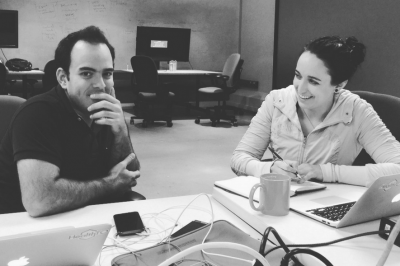 p (Embodia's initial business name) and he seemed immediately interested. He asked a bunch of questions and then invited me to join an evening event after the conference ended.
This was my first lighthouse and three years later he continues to shine bright for Embodia through all of the ups and downs that are normal when starting a business.
As boxer Mike Tyson says "Everyone has a plan until they get punched in the face."
So much about Embodia's  ability to get back up after being figuratively "punched" comes from having a great group of lighthouses, team members and cheerleaders in our corner.
Resistance
The process of creating a technology for an industry that has been relatively unchanged since it's birth means there was resistance.
Innovation is rarely successful right out of the gate.
The only way to successfully innovate is to iterate like crazy.
There is a common misconception that companies arise fully formed out of an innovator's head. That couldn't be further from the truth. Carefully look at the history of just about any innovation success (Amazon, Google & Apple included) and you'll find a course fraught with revisions & failures.
The refrigerator, the laser, and the dishwasher were disasters for decades before enough of the cultural and technological barriers were eliminated through various insights, transforming the products into true business innovations.
Thomas Edison summarized the value of iteration well: "If I find 10,000 ways something won't work, I haven't failed. I am not discouraged, because every wrong attempt discarded is often a step forward."
Iteration is necessary for innovation to occur.
It has taken (and will continue to take) passionate persistence to continue to improve, iterate and revise Embodia (which was initially called healthSwapp).
I set out to develop something that would be useful for my patients, improve their overall experience during their rehab and decrease my workload. Three and a half years later, we continue to work towards these goals and we now hear from PTs everyday about how the Embodia app has transformed their practice. Here's what Carolyn Vandyken, physiotherapist, said to me the other day:
"Remember how resistant I was at first? Now, I an't imagine working without it. It has changed my practice for the better, and my patients love the app!"
Carolyn and many other Embodia community members have shared their experiences, thoughts and feedback to help us better serve them. One year ago, we received several requests to add online courses to make it easier for physiotherapists to take continuing education courses.
Embodia Academy: Learn what you need, when you need it
I will never forget the day we filmed our first video, in my apartment, featuring a couple of my friends doing strengthening exercises! It's incredible how far we've come since then.
We now film in a professional studio, and feature world class clinical instructors like Mike Stewart, Anthony Lo, Jim Millard and Shelly Prosko.
The Embodia team is now 15 people (and growing). And the best part?
Over 6,000 PTs across the country have used Embodia Academy to learn what they need, when they need it. Here's what one Embodia Academy student wrote to me:
"You know why it's so great? Now I can take a course after I put my baby to bed, while sitting in my bubble bath!"
Raising the bar, for our patient care and for our profession
As an industry, we are at an inflection point and there is a thirst for change – a thirst not only for change but the desire and motivation to lead this change.
We have an opportunity to transform the physio industry and bring it forward into the 21st century. Many of you using Embodia tell me you feel you are doing exactly that, by integrating technology into your practices and radically accelerating your learning and your patient outcomes.
We will continue to grow, iterate and improve together. I am so grateful to have the opportunity to serve thousands of physiotherapists across the country and bring continuing education online.
To learn more and join our community please visit www.embodiaapp.com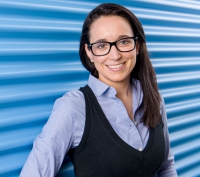 Maggie graduated from McMaster University with a Masters of Physiotherapy in 2009 and spent the first five years of her career working in five different private clinics. Frustrated with clinic policies and constantly having to rebuild her patient caseload each time she switched clinics, Maggie decided to open her own practice in the east end of Toronto and, at the same, build a solution that would keep her connected to her patients.
Embodia was born in 2014 and since then has grown to provide digital home exercise prescription and online continuing education to more than 6000 physiotherapists globally.