This year to celebrate National Physiotherapy Month the Grey Bruce District of the Ontario Physiotherapy Association joins Chapman House to support end of life care close to home.
Here's How YOU Can Participate: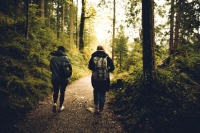 Join us May 15 at 2pm at Harrison Park Pavilion, 75 2nd Ave East, Owen Sound. Bring friends and family, rain or shine event.
Donate online to Chapman House or at the event cash donations are accepted in a sealed envelope.
We look forward to seeing you there!