NEW TO PRACTICE (N2P) LIVE COACHING CALL
This Coaching Call Has Been Postponed. Stay Tuned for a New Date & Time.
Addressing Potential Racism and Discrimination in The Workplace and Steps to Creating A Safe Space for Staff and Patient Diversity
Open to all OPA members who are new to practice. Login to complete the registration form below.
Coach: Courtney Bean, PT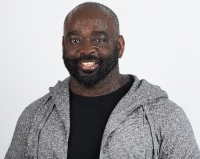 Courtney Bean graduated PT school from the University of Toronto in 1996 followed by an orthopaedic manual therapy residency with the Ola Grimsby Institute in California. In the earlier half of his career, Courtney took on both clinical and administrative roles at Kaiser Permanente in Oakland California ending his time at Kaiser as the Chief of Rehab, Occupational Medicine before returning to Canada. Courtney, a past OPA Board member and a recipient of the 2021 CPA Medals of Distinction, is the Vice President, Integrated Care, Partnerships & Private Services at VHA Home HealthCare and is heavily involved in the development of new integrated models of care under the new Ontario Health Team model. Taking pages from his development of the National Student Assembly in his final two years of PT school, Courtney is one of the leads in the development of the Black Physiotherapists Association.