McMaster University Contemporary Medical Acupuncture for Health Professionals – Fall 2020 – September to December 2020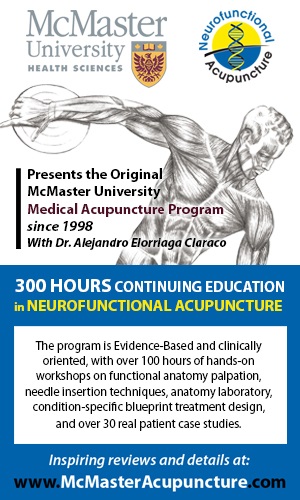 WANT TO ADVERTISE A COURSE?
Check out our Ad Rates 2020 and submit your ad in our Store.
All courses listed are emailed to OPA members on the third Friday of the month.
Questions? Please contact Sara Pulins.
Custom Content

Course Type

Program (1 semester or longer)

Date

09/11/2020 - 12/04/2020

Instructor Name

Dr. Alejandro Elorriaga Claraco, Director; Dr. Angelica Fargas-Babjak, Chair; Dr. Ravinder Ohson, Lecturer; Dr. Pradeep Kumar, Lecturer; Dr. Mike Prebeg, Lecturer; Mrs. Heather MacKay, PT, Instructor Coordinator, plus over 35 additional instructors.

Cost

Students/First Year Grads: $5979.00 Early Bird by July 10, 2020: $6997.00; Regular Fee: $7697.00

Address

McMaster University Campus
Hamilton, Ontario
Map It

District

Hamilton

Brief Description

PROGRAM DIRECTOR – Dr. Alejandro Elorriaga Claraco 

Date(s): Fall 2020
Unit 1 – September 11-12-13
Unit 2 – October 2-3-4
Unit 3 – October 23-24-25
Unit 4 – November 13-14-15
Unit 5 – December 4-5-6

Registration Deadline: August 7, 2020

Early Bird Fee until July 10, 2020: $6997.00

Cost: Students/First Year Grads: $5979.00; Regular Fee: $7697.00

Since 1998, hundreds of physiotherapists have successfully completed the McMaster University Contemporary Medical Acupuncture Program, as part of an elite group of over 2,200 health care professionals from over 15 different countries. This 300 hours University reviewed and approved Program consists of five live Units (Fri-Sat-Sun) completed within four months, with a concurrent home study portion that includes key acupuncture articles from the medical literature. The Anatomy Laboratory sessions, live patient demonstrations, functional assessment workshops, and daily needling workshops (over 300 supervised insertions) guarantee the successful integration of acupuncture into a physiotherapy practice, right upon completion of the Program.

For More Information & Registration Contact: Valerie Cannon, Administrator

Phone: 905-521-2100 x 75175

Email: mcmasteracupuncture@mcmaster.ca  – or -  contemporaryacupuncture@mcmaster.ca

Website: http://www.mcmasteracupuncture.com  - or - http://www.contemporaryacupuncture.com

Link

contemporaryacupuncture.com

Contact Phone

(905) 521-2100 x75175