Outstanding Volunteer Award Recipient
By Robert Cusinato 
Who am I?  The answer to this very question remains elusive not only to me but to each and every one of us.
While I have been searching for clues, I have experienced a rebirth of sorts.  It still remains unclear what triggered this positive change as there have been several uplifting experiences. I cannot dismiss the zealous support from family, friends and coworkers during the most difficult time of my life. I certainly cannot dismiss the support and motivation provided by the very clients who know me as their physiotherapist. Often, they do not even have to say or do anything.  I am driven to push myself just by watching them fight their own battles. I cannot dismiss the world around me. How it looks, smells, sounds, tastes and what it feels like. I cannot dismiss the sense of pride and honour that I feel by being nominated by my district executive team back home in Windsor for the OPA Outstanding Volunteer award and ultimately being chosen by OPA to receive this award.
Being a physiotherapist is a gift that offers several fruitful employment opportunities. I have been employed at Hotel-Dieu Grace Healthcare (formerly Windsor Regional Hospital) since 1997. I have also been employed on a part-time basis or as a consultant in private clinics, retirement homes and in homecare.  I have had the opportunity to teach medical students at the Schulich School of Medicine and Dentistry. I have also enjoyed teaching and mentoring physiotherapy students while at work and at my alma mater, the University of Western Ontario in London.
As a longstanding member of OPA I have acted as Treasurer on our district for many years. While being an active member of OPA, I have listened to some well-informed speakers, attended some enlightening courses and participated in some entertaining social events. Some lifelong professional relationships have been forged. Along with Ryan Thomas, physiotherapist, we have been able to arrange several courses in Windsor over the last decade. We have benefitted from expert instructors coming from all over Canada, the United States, Mexico and Europe.
Physiotherapy has also launched me into the community in other capacities. As a longstanding member of my Parish Health Council I have been able to provide physiotherapy services and knowledge to parishioners in need. I have also been able to offer physiotherapy services to local sporting teams and sporting events. More recently, I have been an active member within the MS community by lecturing to medical students and physiotherapy students. My wife and I have also entered a team into the annual MS Walk sponsored by the Mandarin. For the past three years, we represented the largest team in Windsor and we hope to continue with this tradition this year. There is still so much more that I hope to offer.
Being surrounded by so many inspiring physiotherapists at the Awards Gala on April 6, 2019 has energized me. The excitement was intoxicating. There was an obvious camaraderie among physiotherapists and other healthcare professionals. Those who were recognized for their contributions were truly deserving. For me, this reinforced the sense that a physiotherapist can certainly be impactful in his or her community. All health care professionals for that matter serve the best interest of people.
Physiotherapy is gaining strength and there are so many within the profession who are pushing for positive change.
Who am I?  Until recently, there was a solitary answer.  "I am Multiple Sclerosis and I have Rob." I conceded to this summarization for far too long.
This is not how I want to be remembered. There is so much more to me and as alluded to earlier, this award reminds me of that very fact.
My train of thought has shifted. "I am Rob and I have Multiple Sclerosis."
Actually, that is just a tidbit about me.
When I look in the mirror this is what I see…
"I am Rob and I am a proud physiotherapist!"
---
Leadership and Advocacy Award Recipient
By Derek Debassige 
OPA's Interaction 2019 event in Toronto was host to a head-spinning list of events, educational sessions and networking opportunities. For the hyper-engaged, expect to leave Interaction topped up with new perspectives and fresh ideas. For me, this year was no exception.
My weekend started with a peek into the future with the OPA Forum. This full day facilitated 'Think Tank' is an intriguing look at current issues, developments and where the physiotherapy profession looks to position itself. Contributing to the rich discussion was without question one of the highlights of the weekend.
The following day's list of activities was impressive. On the cusp of my 20th year as a PT, the breadth of our profession continues to evolve. I started my day with the breakfast presentation and some caffeinated PT banter and jumped right into the mix as a presenter. Months prior, I accepted the opportunity to contribute to a panel presentation hosted by out-going OPA President Wendy Smith on navigating career pathways. I'm grateful to all those who took time to visit and share their interests, their projects and ultimately their time throughout the day. These side conversations, in my mind, are often the greatest gems of the weekend. The rest of the day was a bit of a blur as I filled a few pages in my 'ideas' notebook. For real, I still sometimes put ink on paper.
My weekend ended with a bang by receiving the Leadership and Advocacy Award at the Awards Dinner and Gala focused on propping up some pretty cool people doing awesome work. My congrats (in print) to award winners Greg Spadoni, Trudy Mason and Robert Cusinato for their inspiring achievements. The staff at the OPA pulled off a great event. A handful of 60 year OPA members were on hand to offer some welcome reflections and my wife and I did our best to wear the wax off the dance floor alongside a mob of well-dressed McMaster PT students. Go Marauders.
Recognition from your peers is a fantastic thing. My nomination was a blast from the past as it came from a group of colleagues, spear-headed by a former preceptor Denise Taylor and a former classmate at MAC PT, Kirsti Reinikka, both of whom trailblazers and advocates in their own rights. Having the opportunity to work collaboratively with open-minded agents of change is something special. I've learned not only to scan for and act on these opportunities, but endeavour to develop the skills necessary to become an architect of them. I sincerely thank those who contributed to this nomination and the OPA for this recognition.
Lastly, I offer a fundamental pillar that has led to being recognized with this award. We work in 'a system' not 'the system'. Appreciate the importance of aligning interest through relationship development and work to build these skills through consistent and honest reflection. System level change is not an easy thing to accomplish but it happens all the time, with (or without) your involvement. Add value. Engage.
---
OPA Special Board Award Recipient
By Trudy Mason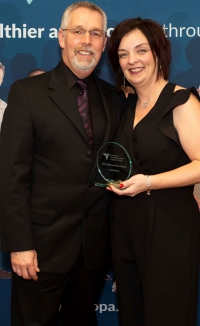 It was both a great surprise and an honour to be chosen to receive a special award from the OPA Board of Directors at this year's award ceremony. Being recognized as a volunteer by my fellow volunteers makes it even more special.
As a member of the OPA Special Awards committee I am provided a unique perspective on our profession. Reading the award nominations outlining the innovation and knowledge sharing of our leaders is a yearly dose of inspiration. This year I was truly honoured to stand beside my fellow award recipients. Their dedication to advancing the profession and caring for both clients and students while balancing their personal lives and individual challenges made for a memorable event. Being amazed by the enthusiastic new grads is both a reminder to stay engaged and is a promise for a bright future for our field. Adding a new award a few years ago to honour our physiotherapist assistants highlights the collaboration PTs have always been known for. Without a doubt my favourite part of the ceremony is honouring our 50+ year members. Seeing how engaged these members have been for years is amazing; hearing their stories of how the profession has changed and developed under their steady guidance is a special treat.
I am most proud that our Awards committee and our professional organization as a whole, make a point of honouring fellow dedicated volunteers. Starting out as a district member and then moving onto district president, then joining OPA special committees, volunteering at InterACTION and acting as a voting delegate I have had so many rewarding opportunities. Invariably there have been a few challenges: from district courses that didn't go exactly as planned (forgotten snacks, trying to transport 30 gym balls in one mini-van, projector bulbs that always burn out at the wrong moment) and trying to balance work, kids and OPA)… we have all been there. Just at the moment when you are about to throw up your hands and ask why you are doing this, remember each and every little thing we do makes up this big wonderful association that we can all be proud to call our own.
Never fear volunteers! You have the backing of a top-notch staff at head office and an engaged, dedicated Board of Directors. So get out there and volunteer in OPA. I look forward to reading your stories upon receiving an award in the coming years.
---
Innovation and Advancement Award Recipient
By Greg Spadoni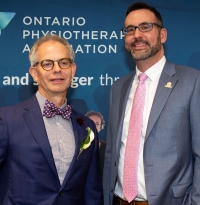 Being awarded the OPA's Innovation and Advancement award at this year's InterACTION conference was a tremendous honour. It was an overwhelming experience when, at the conference's gala event I was cheered onto the stage by a delegation of McMaster University physiotherapy students cheering and waving napkins over their heads! As the final award recipient, it was a daunting task to follow such remarkable and tear provoking addresses. To be an award recipient among such other incredible and inspiring individuals was very humbling. Two of the award winners were 60year members of the OPA! To think, that thirty years ago I was a police officer who took a leap of faith into a career change only to land in the greatest profession in the world! Barak Obama famously said that "change is brought about because ordinary people do extraordinary things". Well, I guess I am proof that ordinary physiotherapists can do extraordinary things and as a result be recognized with awards such as this.
My successes have always been rooted in the people who have supported and mentored me on my journey, most notably my wife and children and my sister-in-law who is also a physiotherapist.  Others include my instructors and mentors at McMaster University, most notably Paul Stratford and Laurie Wishart; and now my colleagues in the School of Rehabilitation Sciences who are inspiring, supportive, and great mentors. I have made alliances with my colleagues in the community and university which have facilitated clinical research and the advancement and translation of knowledge on a broad array of domains from cancer research to manual therapy. I have had the privilege and good fortune over the past eighteen years to teach both at McMaster and in the Orthopaedic Division of the CPA, during which time I have instructed approximately 2200 students in the respective entry level PT program and the Orthopaedic Division's continuing education courses. I say, 'good fortune', because the students that I have mentored in these courses have kept me interested, challenged and engaged in the profession; they are always 'a breath of fresh air' as they pursue their career dreams and goals. St. Mother Theresa said that she "cast stones trying to create a ripple".It is my hope that I have made a ripple in the physiotherapy narrative in Ontario and that I can continue to do ordinary things to help and facilitate others to do extraordinary things.
The most gratifying moment of the night, of course next to receiving the award, was to see my daughter in the audience who had just recently completed her physiotherapy degree and will soon be joining the greatest profession in the world! I ended my address with a challenge to her and to all of the physiotherapy students in the audience to be a 60year member of the OPA. I regret I won't be there when my daughter reaches that milestone, after all, she'll be 85 years old!